SmartTubeNext (Official)
SmartTubeNext is a unique YouTube video streaming application for Smart TVs. No regular YouTube can beat this because of its features. If you have heard of YouTube Vanced or Vanced Manager, then you will know they are the modded version of YouTube with many premium-free features. Adding these features to a Smart TV app is not an easy task. But, the great thing is that SmartTubeNext APK successfully fixed it and now you are able to use all the YouTube Premium features with SmartTubeNext on your Smart TVs. Keep reading this article till the end to know all the details about this app and download the latest version from our website for free.
Version 19.17
What is SmartTubeNext?
SmartTubeNext is a YouTube-modified app but not for Android, it's for Smart TVs. Here, you will find premium (paid) features such as ad-free streaming, background play support, YouTube Music Premium, and gives you access to YouTube Originals, etc. All these features are not for free users and users must need to buy a subscription to enjoy them. Well, YouTube Vanced fixed it on Android and so SmartTubeNext! In this article, you will find a detailed overview of SmartTubeNext APK and all the features explanations, download options, and much more information.
Speaking of YouTube, it's a video streaming service offered by Google and it comes installed & prebuilt with almost all Android Smartphones. Popular smartphone companies such as Samsung, MI, Google, etc. offer YouTube on their devices. Not only that, this app is available for iOS, Windows, and the YouTube Website and can be accessed with almost any device that can run the internet. YouTube has millions of users and unlimited videos it's free to use people can make a YouTube Channel to upload their videos such as Gaming, News, Vlogs, Music, Comedy, etc. There are almost all the categories available on it and people love this platform. There are many side effects of YouTube as well, such as its addictive, and there many inappropriate ads, content, etc.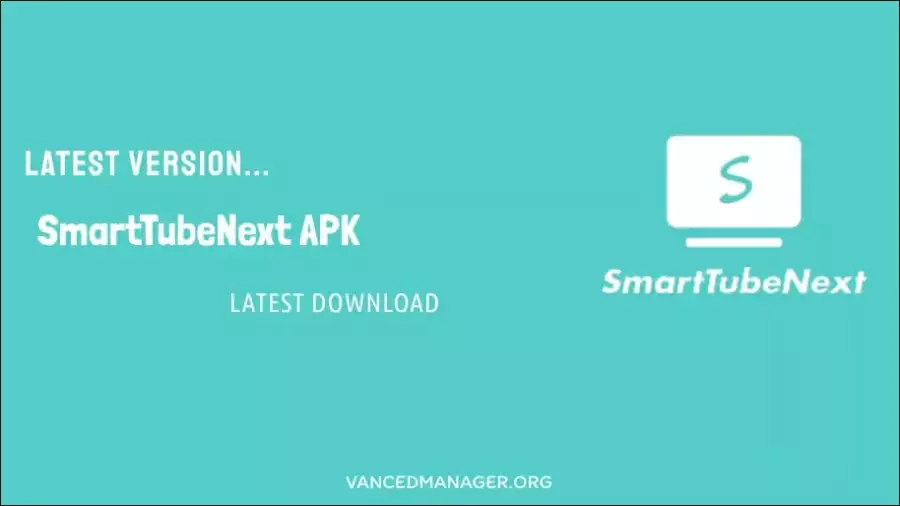 A Short Story of SmartTubeNext
SmartTubeNext is offered by Yurii, the same developer of the Smart Youtube TV app. He's an independent developer with brilliant knowledge. Now, we can use YouTube Premium for free on a Smart TV, all thanks to him. This app is great as it provides so many features for free. Also, you can get many other features and regular updates support as well. Speaking of the app, you can install it on any Smart TV that supports the Android OS. Smart TVs such as Apple TVs or Samsung OS TVs won't support the SmartTubeNext app. You can read this article to know more about device compatibility. Also, scroll more to get the direct-downloading link of this app. Do not worry about downloading this app from our website as we offer the safest APK on the internet.
SmartTubeNext APK Info
| Package Name | SmartTubeNext |
| --- | --- |
| Size | 25 MB |
| Version | 19.17 |
| Price | Free |
| Developed By | Yurii |
| Last Update | Oct 08, 2023 |
Explore Features of SmartTubeNext
Adblocking Supported
Watching videos on YouTube is fun but only without ads. Sad that it's only available as a premium feature. Free users can't remove ads from the App. But not on SmartTubeNext, it offers all the features of YouTube with no ads. You don't have to buy any plan to get this feature. Everyone can use it for free. Adblocking is supported in this app. There will be no ads whenever you start a video or in between it. Hope you know that SmartTubeNext is only available for Android Smart TVs, so if you thinking to use this app on your mobile, it's not possible. You can use YouTube Vanced, Newpipe, etc. YouTube Client apps. These are available on our website as well.
Block Sponsors Easily
When we open YouTube, there are a lot of sponsor videos in our tab. This makes it hard for us to know which are sponsor videos and which are not. Well, with SmartTubeNext, no worries. All the Sponsor videos are blocked and you will only get video recommendations from real channels.
Experience Seamless 4K Video Streaming
SmartTubeNext supports 4K 60 FPS and HDR. So, you can have an amazing experience while watching YouTube videos on your Smart TV. But do you know this requires a good internet connection as well? To play 4K videos without buffering, you will need at least a 50 MBPS broadband plan. Also, the app supports HDR but make sure your Smart TV also supports this function. It is very rare and only comes with new technologies. Still, watching in 4K is enough for the majority of users. Also, not all videos have a 4K resolution, and 1080P is the most used resolution on YouTube.
PiP (Picture-in-Picture) Mode
PiP Mode is known as Picture-in-picture. It comes in Android phones for a long time and recently supports iPhones too. SmartTubeNext also supports this feature. With PiP Mode, you can scroll more videos while watching a video on YouTube. You can also search for new videos while watching as well. It's one of the best features of this app.
Speed Adjust Your Videos
Sometimes we just wish to watch a video in hurry and at normal speed, it won't be possible. But with speed adjusters (speed playback controls), it is possible. You can speed up the video or slow it down with SmartTubeNext easily. This is now possible on Smart TVs too with this app.
Casting Support
Casting videos on Smart TV with your phone is amazing. You can easily open videos, scroll through them, and search for content easily but to enable casting on SmartTubeNext, you will need to follow these steps.
Open the app and go to the settings.
Open Remote Control.
Now, open the YouTube app on your Smart Phone and go to settings > General > Watch on TV.
Connect and fill in the TV-Code that will show up on your Smart TV.
That's all, you can now cast YouTube on your Smart TV with your phone.
Search Content With Your Voice (Beta Feature)
This feature is in development and will get better with new updates. However, it's not easy to use this feature in the SmartTubeNext app. To do that, you have to uninstall the official YouTube and install a third-party app called Bridge. It will work as a system voice search and it may or may not work on your Smart TV. To use the voice search feature on Amazon Fire TV or Google Chromecast, you will need to uninstall the original YouTube app and download & install the ATV Bridge SmartTubeNext app. To use this feature on other Android TVs, you will have to root them and do the same process.
Key Features of SmartTubeNext
Adblocking: Can block ads on YouTube for free.
SponsorBlock: There will be no sponsor posts.
Casting: You can cast your Smart TV with your mobile device.
Picture-in-Picture (PiP): Enable this mode for searching for new videos.
Adjust Speed: Fast forward a video or slow it down.
Voice Search: Easily search for videos with your voice.
4K and higher | 60FPS | HDR: If you have a good enough WiFi connection, you can enjoy 4K videos.
Does not require Google Services: There is no need to log in to your Google account to use this app.
Compatibility of SmartTubeNext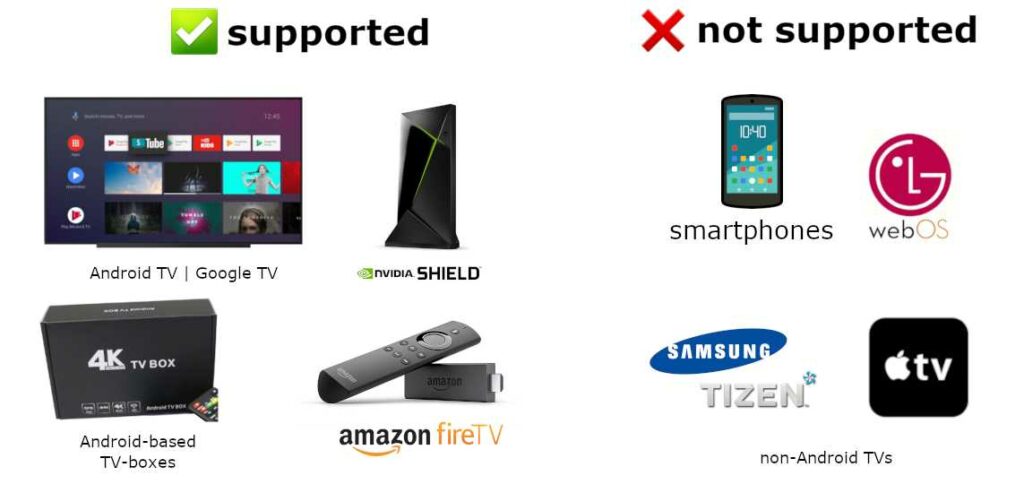 If you wonder whether SmartTubeNext will work on your Smart TV or not? You can check for its compatibility. Your Smart TV must have Android Version 4.3 or higher. Smart TVs not running on an Android OS won't support this app such as Samsung TV, Apple TV, etc. Read this list for the supported devices.
Android Smart TVs
Google Smart TVs
Supports Chromecast
All Fire TV Amazon Devices Support
NVIDIA Shield Compatible
Android TV Boxes and MI Boxes
Installation Guide For SmartTubeNext
First, you have to download the SmartTubeNext APK File. There are two files available, the beta release and the stable release. You can try both of them and check which runs better on your Smart TV. To install this app, follow the guide.
Install on Amazon Fire TV:
First, download the app from our website.
Install another app for transferring files from PlayStore such as Send Files to TV.
Transfer the SmartTubeNext APK to a USB and plug it into your TV.
Now, download a file manager app and open the SmartTubeNext APK from the file manager easily and install it.
Install on Chromecast with Google TV:
First, enable the developer options. Visit Settings > System > About and tap continuously on the Android TV OS Build. It will enable the developer options.
Now, turn on the unknown source installation from the settings. Visit Apps > Security & Restrictions > Unknown sources and enable it.
Now open the file manager and install SmartTubeNext APK.
For Android Smart TV:
Follow the same steps for enabling unknown source installation. Now, download the APK and upload it on a USB and install it on your Smart TV.
FAQs About FAQs
What is SmartTubeNext?
SmartTubeNext is an Android Smart TV app with which you can play YouTube without ads.
How does SmartTubeNext work?
SmartTubeNext is developed by an independent developer and in its source code, there are no codes that help in showing ads. So, there are no ads in the app. You can find the detailed info on the GitHub page.
Is SmartTubeNext free to use?
Yes, it's 100% free. There are no subscriptions or premium plans. Anyone who have an Android Smart TV and wishes to play YouTube without ads can install this app.
What are the benefits of using SmartTubeNext?
Well, you can use YouTube with no ads and many other premium features on your Smart TVs. Features such as PiP Mode, Sponsor Block, etc. are available in this app.
Is SmartTubeNext safe to use?
Yes, there is no malware or spyware in the source code of SmartTubeNext. You can safely use it without any issues.
How to update SmartTubeNext on Smart TVs?
SmartTubeNext has an inbuilt updater that shows new updates. You can go to the settings > about > check for updates. If there are new updates, you can update the app from there, easily.
Can I run SmartTubeNext on a smartphone?
Nope, this app is only made for Smart TVs.
Does it support HDR?
Yes, SmartTubeNext supports this feature but your Smart TV must have HDR Enabled as well.
Conclusion
Thanks for reading our article about SmartTubeNext. Do you love this app or haven't you tried this yet? Well, let us know if you do. You can also comment down below if you have any issues with this app or any questions in your mind. SmartTubeNext is a next-level modified YouTube app that offers features such as Ad-Free Streaming, Sponsor Block, Background Play, PiP Mode, etc. On this website, we have a detailed article on this app that describes all the features and installation steps. You can visit us anytime to get info on the related apps for your Smart TV!